The Maximum Weather Instruments History
The story of Maximum Weather Instruments began in the 1940s when a young man, with a great mind, named Gordon White became involved in a family business and decided he could do something to bring his fascination for the wind into our living rooms. Below is a quick look at various milestones in our history.
The First Maximum Instrument
Starting in his basement in Dover, Massachusetts, Gordon developed the first Maximum instrument and sensor combo that would show the current wind speed, as well as the "Maximum" wind gust.  From there, a few more wind indicators were added to the range and employees were added as word spread of the ability to monitor the wind from the comfort of your home or office.
The Move to Natick Massachusetts
Maximum would eventually outgrow Gordon's basement and needed a new home, and leader. A move to Natick Massachusetts took place and Gordon's son Ken, fresh out of business school, was the perfect choice to lead the company into the future.
An Internal Acquisition
After several years and a significant expansion of the instrument line, Ken had the company in a good position to be acquired by one of his employees, who was originally a customer – Jim Brooks. This change marked the end of the White family's ownership of the company, but Gordon was still involved as a consultant. Jim made his mark quickly by further expanding the range and marketing of Maximum weather instruments via an upscale catalog and production efficiency.
IMTRA Expands Maximum's Reach
After several years of growth, Jim had taken the company to new heights and was ready for a new challenge. Long time Maximum instrument distributor – IMTRA Corporation out of Medford, Massachusetts was a great fit for expanding Maximum's reach. Nat Bishop, long-time IMTRA employee became the next president of Maximum. Under Nat's leadership the company refined it's product mix and further expanded its marketing efforts. Nat was instrumental in expanding distribution of Maximum products across the entire US, as well as internationally.
Gordon White Passes Away
Maximum founder Gordon White passed away at the age of 82, after seeing his vision for bringing wind and other weather instruments to the masses come to reality. A life-long inventor, Gordon was full of enthusiasm for the things he was passionate about and committed to making the absolute best versions of those things.
Maximum Moves into the Future
As Maximum found success in other areas, like in commercial applications for their quality instruments and sensors, it was time to focus again on the core business and take advantage of the digital marketing tools that were being developed. Peter Kilgore, who had spent a few years leading the sales and marketing efforts for the company, was appointed president and brought Maximum "into the future" with its first e-commerce website, email marketing program, and a social media presence.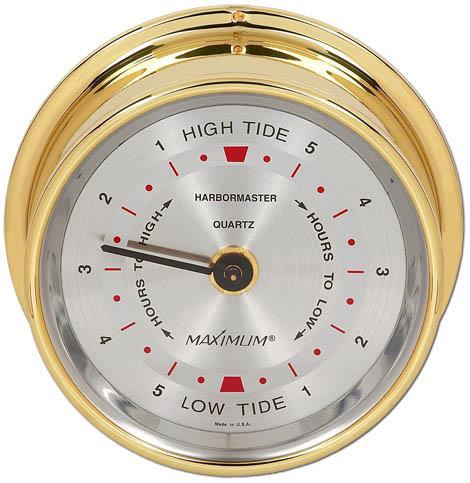 Harbormaster
Track the tide with Harbormaster, a precision east coast tide clock.  It makes it easy to
Meridian
Time is a precious commodity and Meridian helps you keep track of it in a classic, elegant
Stratus Relative Humidity Instrument
The Stratus provides an accurate, reliable, reading of outdoor relative humidity over a sc
Ready to See of Our Timeless Products?
View our pre-configured weather stations that have stood the test of time.  Whether for you or someone special in your life, we've got you covered.