How Do Weather Thermometers Work?
What is a Weather Thermometer?
Weather thermometers are useful tools to have in your home, but how do they work? Keep reading to learn more about indoor, outdoor, and digital weather thermometers.
One of the main reasons people watch the weather forecast is to get an idea of just how hot or cold it is supposed to be at some time in the future.  A weather thermometer is an instrument used to measure the air temperature and to measure the highs and lows of the day, which can then be used to provide historical averages over time.

How Do Weather Thermometers Work?
Many of us have some type of thermometer either inside or outside the house, which allows us to check the temperatures numerous times a day. There are many ways of measuring temperature, and several different scales with which to measure. The simplest technique for measuring temperature, is to take some kind of liquid which expands or contracts in response to heat and cold, and to measure the change in volume of the liquid. A standard mercury thermometer uses this principle.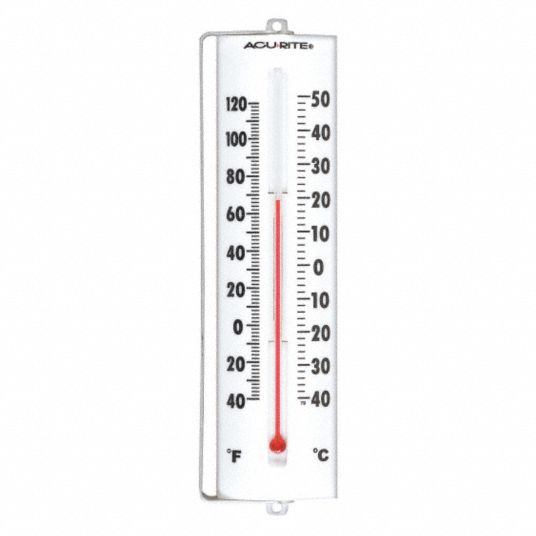 The Benefits of Owning a Weather Thermometer
There are several benefits to owning a weather thermometer. Let's take a look at a few:
Real-time data on demand – allows you to know the temperature right outside your door 

Shareable data more accurate than your mobile device – most mobile devices utilize data from a set location far away like an airport or school.

Accurate temperature readings, again better than your smartphone

Straightforward and easy to use – Whether analog or digital, readings are clear and simple to see

Helps you stay aware of how to prepare yourself for daily life as well as how to prepare your home should a cold snap or heat wave come through – Grab a jacket or throw on some shorts, thermometers tell you what to expect when you head out.

Great learning opportunity for the whole family – Science at home, thermometers can teach valuable weather lessons all year long
Traditional vs. Digital Weather Thermometers
When it comes to traditional vs. digital weather thermometers, the difference is truly preference. Traditional instruments offer a classic look and reliable accuracy, while digital thermometers are also reliable and especially easy to read. 
Discover the Mini-Max, an elegant and traditional analog remote-reading thermometer with an exterior sensor that sends data to the interior display. Mini-Max is equipped with an electronic memory that stores high and low readings until manually reset. It provides readings in Fahrenheit and Celsius and features a temperature minder to let you mark current temperature and note any changes.
Or take a look at the Mystic, an easy-to-use digital thermometer and barometer.  Mystic combines both outdoor temperature and barometric pressure in one beautiful, digital instrument. It provides readings in four different modes: Present, High, Low, Wind Chill temperature and Rate of Change for barometric pressure. It also features user-selectable units of measurement for temperature (°C, °F) and barometric pressure (inHg, mmHg, kPa, mb). Memory data is protected by a 10-year backup to preserve data during power outages.
Final Thoughts
At Maximum, we value efficiency. Our weather thermometers work off temperature sensors that help make your experience as easy as possible. This way, once you've installed your thermometer, you should be able to receive a reading straight away. Take a look at our website to see all of the different thermometers available.